The R3 Medical Aesthetics Training Course is a jam packed 2 day training that is hands on and immersive for Regenerative Aesthetics Procedures. See One, Do One, Have One!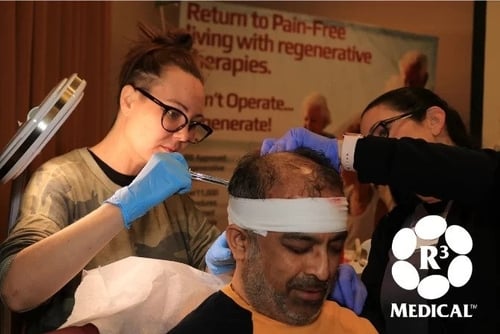 The Medical Aesthetics Training Course includes:

Botox, Fillers and PRP Therapy Training

Exosome Rich Fluid and Umbilical Tissue Aesthetics Procedures

Hair Restoration

Facial Rejuvenation

Sexual Wellness
The aesthetics training procedures are taught by experts who will show you how to evaluate patients, what to charge them and the best techniques using exosome rich fluid, umbilical tissue, stem cells, PRP and thread lifting!
The best way for providers to develop a medical aesthetics skill set that is retained is to have a hands on experience with real patients and biologics. That is what we offer. See and do procedures and Have One at the Course.
Regenerative aesthetics procedures need practice to gain confidence. In addition, it's not just about doing the medical aesthetics procedures, but also how to evaluate patients, knowing which procedure to perform, whether to include biologics, and how to understand the results. Receive show specials on biologics and regenerative purchases, the course pays for itself several times over! Our regenerative aesthetics training course is proven qualified and have good reviews from trainees.
FYI – not only are the course options great for providers such as DO, MD, ND, NP, PA and RN's, but also provide excellent education for practice administrators and owners such as DC's.