31 Mar

Medical Aesthetics Training Course for Doctors and Nurses
Hands On Medical Aesthetics Training for Stem Cell, Exosome & PRP Facelift, Hair Restoration & Sexual Health Procedures
NEW: ALL REGISTERED PROVIDERS MAY BRING AN ADMIN FOR 50% OFF!
CME ACCREDITED FOR 10.25 HOURS
SEE OUR COVID PRECAUTIONS HERE.
August 13-14th, 2022 – New York City, NY
The R3 Medical Aesthetics Training Course is a jam packed 2 day training that is hands on and immersive for Regenerative Aesthetics Procedures.
The Aesthetics Training Course includes:
Botox, Fillers and PRP Therapy Training

Exosome Rich Fluid and Umbilical Tissue Aesthetics Procedures

Adipose Autologous Procedures (Fat Transfers/Fillers)

Hair Restoration

Facial Rejuvenation

Sexual Wellness
The aesthetics training procedures are taught by experts who will show you how to evaluate patients, what to charge them and the best techniques using exosome rich fluid, umbilical tissue, adipose stem cells, PRP and thread lifting!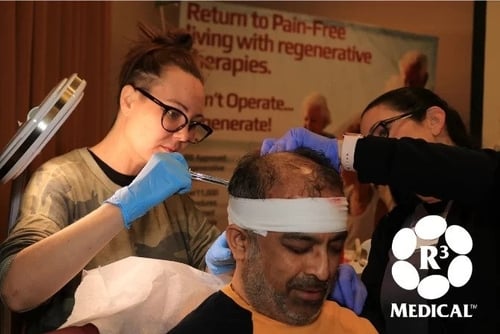 The best way for providers to develop a medical aesthetics skill set that is retained is to have a hands on experience with real patients and biologics. That is what we offer.  See and do procedures and Have One at the Course.
Regenerative aesthetics procedures need practice to gain confidence. In addition, it's not just about doing the medical aesthetics procedures, but also how to evaluate patients, knowing which procedure to perform, whether to include biologics, and how to understand the results. Receive show specials on biologics and regenerative purchases, the course pays for itself several times over! Our regenerative aesthetics training course is proven qualified and have good reviews from trainees. 
FYI – not only are the course options great for providers such as DO, MD, ND, NP, PA and RN's, but also provide excellent education for practice administrators and owners such as DC's.
Registration
Regenerative Aesthetics Course NYC August 13-14th, 2022


August 13, 2022 - August 14, 2022




8:00 am - 5:00 pm

Admin for Regenerative Aesthetics Course NYC August 13-14th,2022


August 13, 2022 - August 14, 2022




8:00 am - 5:00 pm
Address:
240 West 40th Street
,
New York
,
New York
,
10018
,
United States
Description:

All Health Medical is a first rate venue adjacent to Times Square, right in the heart of Manhattan! With over 10,000 square feet of medical practice and training space, the venue is a contemporary setting for providers to learn new skill sets with R3's expert trainers. No other training company offers the extent of hands on learning that R3 does, and now right in Midtown.
Trainers
Lucia Mirales Chavez, MD




Dr. Lucia Mirales Chavez is an MD with extensive experience in Regenerative Aesthetics including Hair Restoration, Sexual Health and PDO Thread Lift procedures. She is from Fresno CA.

Dr. Geneva Worthington




Dr. Worthington provides expert training for facial rejuvenation procedures, sexual health procedures along with PDO Thread Lift Certification.